Introduction

♦ This product measures the earthworm speed on different contact surfaces with the built-in photogates.
---
Features
♦  Controllable earthworm crawling direction and distance, easily timing methods, which are not solved by traditional experimenters.
♦  This product is an integrated design which has built-in photogates. It can conveniently measure the earthworm motion time.
♦  The open track keeps the one-way crawling of the earthworm. Users can observe earthworm body when crawling.
♦  This product is equipped with three different contact surfaces and a blank track for users exploring by themselves.
♦  This product has Bluetooth function which helps to complete experiments wirelessly.
♦  This product fully meets the teaching requirements. Users can obtain the obvious effects with easy operations.
Configuration
| | | | |
| --- | --- | --- | --- |
| No. | Name | Qty. | Remark |
| 1 | Main body | 1set | With 3 contact surfaces |
| 2 | Tweezers | 1pcs | |
| 3 | Textured paper | 1roll | |
| 4 | Tape | 1roll | |
| 5 | USB cable | 1pcs | |
| 6 | Bluetooth adapter 2.0 | 1pcs | |
Typical Experiment
Experiment Set-up figure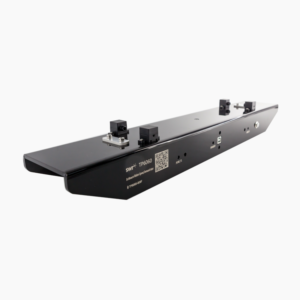 Typical experiment
♦  Measure the earthworm speed on different contact surfaces
Instruction Manual
Link: Instruction Manual【TP6060_Earthworm Motion Speed Demonstrator】_ENG_1.0.1
Video